Kitch.in: Helping to bring back the taste in your food with traditional hand seasoned natural cookware

The inspiration
To get authentic hand seasoned natural cookware has never been easy until now. It was found that most people had started drifting towards toxic easy cookware, which was a clear problem and also the opportunity. Healthy cookware, huge available market to convert, and delight from initial set of customers (when it started), gave the founders the impetus for the formation of The Village Fair, one of the earliest providers of natural cookware. What was an idea has now transformed into a movement. Kitch. in is the result of that movement.
Social Impact
This isn't your typical good deed of the day. Every product that is bought from kitch.in contributes to the livelihood of craftswomen and men whose skills are at present undervalued. These are the same skills that enabled us to eat healthy in the past. Kitch.in aims to save these various crafts from certain extinction and simultaneously help those who deliver these great products
kitch.in encourages small-scale foundries and artisans to produce better quality products. Kitch.in works with women groups and trains them in the art of hand-seasoning. What started with a group of 3 women has now grown to over 25 women for whom this has turned into a viable source of income to support their families
We make sure that each item you buy from us is hand crafted/seasoned using traditional methods. kitch.in also provides a livelihood to dozens of artisans and craftswomen/men who help bring out the best in your cookware. Traditional hand seasoning techniques is a dying art, and we at kitch.in are doing our best to keep this alive Priya Deepak the Co-founder of kitch.in enterprise.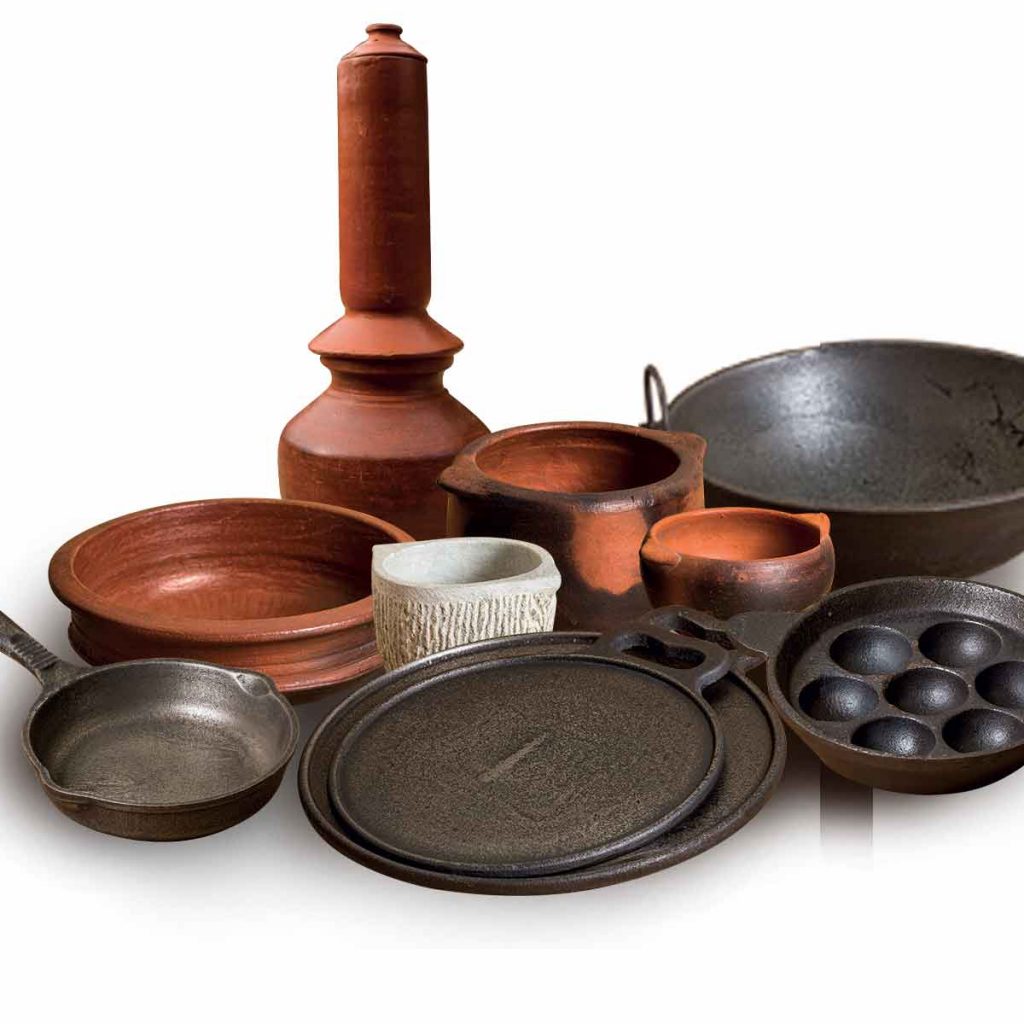 Hand-seasoned natural cookware
Natural cookware such as cast-iron, clay, stone, bamboo and bronze cannot be used straight after production. These cookware need seasoning and that is where the magic happens. Seasoning of these utensils used to be done at home many decades ago, however, today there are just a handfull of people who possess the knowhow. You may have noticed that most natural cookware brands/sellers use the pre-fix "Pre-seasoned"; however, this refers to factory seasoning and not hand-seasoning. The process of hand-seasoning that we take up elevates these products to a league of its own.
Cast iron
A large part of the professional chef's community seems to swear by cast iron. Most of them say that the best food comes out of cast iron cookware, and they are not joking. A cast iron pan is also one of the most versatile pieces of cookware you can own. Cast iron conducts heat beautifully and can go from stove top to oven with no problem. Overtime, the cast iron will absorb some of the flavours and pass them along each time you use the pan. That's why a steakhouse steak tastes so good – they've been developing flavours time and time again which seasons the steak each time adding more and more flavour.
Clay Cookware
The most compelling reason to start cooking in unglazed earthen pots comes from the one thing it doesn't do-leach harmful metals into your food. A well-seasoned clay pot can last you a really long time. However, unseasoned or badly seasoned clay cookware are at risk of cracking while cooking. Foremost health benefits of clay pot cooking come from its ability to circulate steam throughout cooking. This provides plenty of moisture and means that you can cook with less oil and fat.
HEALTH CONCERNS WITH MODERN COOKWARE
A major reason why cast iron cookware is making a comeback is because of health concerns involving other types of cookware. For example, some non-stick coated pans are now known to emit toxic fumes when they are heated past a certain temperature. Cast iron poses none of these risks, and can be heated to extremely high temperatures without negative effects.
AN ARRAY OF PRODUCTS
Keeping in line with the vision to bringing health, tradition and safety back into today's modern home, the founders of kitch.in have travelled far and wide to find small-scale foundries and artisans who could deliver quality products.
Store Location
Kitch.in store is located inside green scenic art centre called Ente Bhoomi next to South Bridge, Kochi, and the self help group seasoning team works out from the island of Vypin and is growing, as Kitch.in is expanding rapidly. Kitch.in also has a 3 member operations team. Kitch.in works with craftswomen and men from across the country to bring you the best of natural cookware.
Global E-store
Kitch.in's objective to reach as much homes was possible using digital space so it has its own e-store www.getkitch.in and it also sold through premium partner e-sellers. Kitch.in customers are from metros and tier 1 & 2 cities. The movement is spreading to smaller towns. It also has growing list of international clientele. Kitch.in uses best logistics provider Fedex and domestic shipping is free. For international orders shipping charges are on actuals.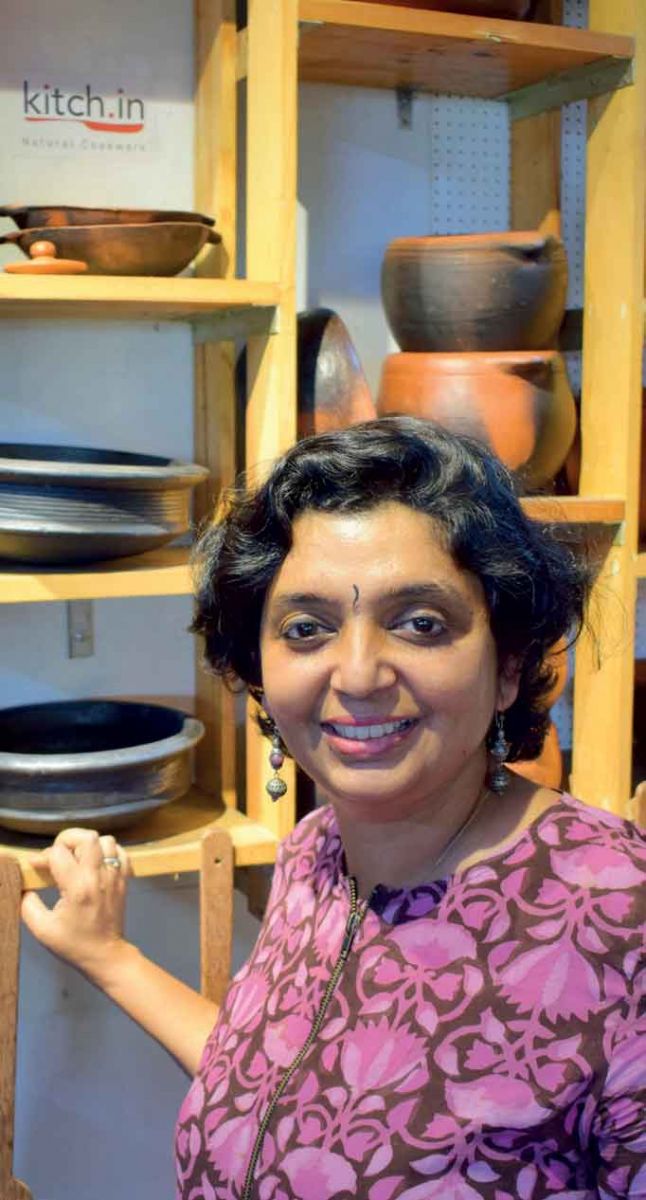 PRIYA DEEPAK
Priya Deepak is a passionate leader with 20+ years of experience in diverse areas of business and has served in senior leadership positions across various IT organisations. Her passion to make it happen was crucial to take the idea and make natural cookware business an organised player in the market about 4 years ago. She immediately identified one of the biggest pain points, which was quality and seasoning. Since then, Priya has travelled far and wide to find the best artisans and foundries that make good quality natural cookware. The next task was hand-seasoning and this is where she created magic. Priya works closely with seasoning team of self-help women group to hand-season the natural cookware thus creating a source of income for them. Today this self-help group has grown to a team of 20+ women. All this came together under 'The Village Fair', which has effortlessly formed the foundation for kitch.in Priya brings grit to the table and carries a "lets do it" attitude wherever she goes
JOSEPH GEORGE
An entrepreneur at heart with a passion for problem solving, Joseph specialises in result oriented marketing. Ambiguity is his friend and hustling is his habit. He has worked across industries starting from event management to politics, Joseph has a wide spectrum of understanding when it comes to getting people to change their minds. Joseph's last gig before kitch.in was as a political consultant specialising in election campaign strategy.